About Vancouver
Vancouver is the largest coastal city in the Province of British Columbia.  In terms of population, Vancouver is Canada's third most populous city, and the most populous in Western Canada. Vancouver is among the most ethnically and linguistically diverse cities in Canada; 52% of the city's residents have their mother-language not English.  Vancouver is the most densely populated metropolitan area in Canada with more than 250,000 inhabitants and ranks fourth after other North American cities such as New York City, San Francisco and Mexico City.  In 2014, the Port of Vancouver surpassed New York to become the third busiest port in North America and the 27th busiest port in the world, the busiest in Canada and the most diverse in North America.  Although forestry remains the largest economic sector, Vancouver is renowned as an urban center surrounded by nature, making tourism the second largest industry.  Vancouver is consistently named one of the top five global cities for livability and quality of life.
ATTRACTIVE TOURISM PLACES
With its mountain views and urban beaches, Vancouver has a well-deserved reputation as one of the most beautiful cities in the world.  Downtown Vancouver is wonderfully located on a peninsula in the Strait of Georgia, bordered to the south by the Fraser River Delta and to the north by an inland depths (Burrard Inlet).  Also in the north, the glittering Coast Mountains are often covered with snow.
With large parks and a relatively egalitarian climate that keeps temperatures mild throughout the year, Vancouver is a paradise for recreational activities.
Stanley Park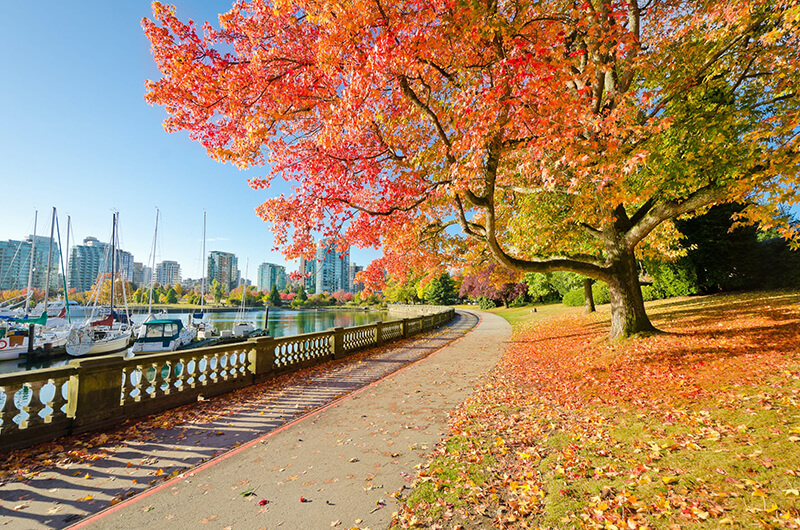 This is a lush peninsula of giant trees bordering Downtown Vancouver. This "green lung" of Vancouver is lined with tree-lined streets and most visitors take their time to explore on foot or by bike.  This beautiful green reserve is a patch of cedar, fir, hemlock and flower beds and beaches on a stretch of land that stretches out into the Pacific Ocean.  Occupying an area of about 400 hectares, the park is one of the largest urban parks in North America, 60 hectares larger than New York's Central Park.
Granville Island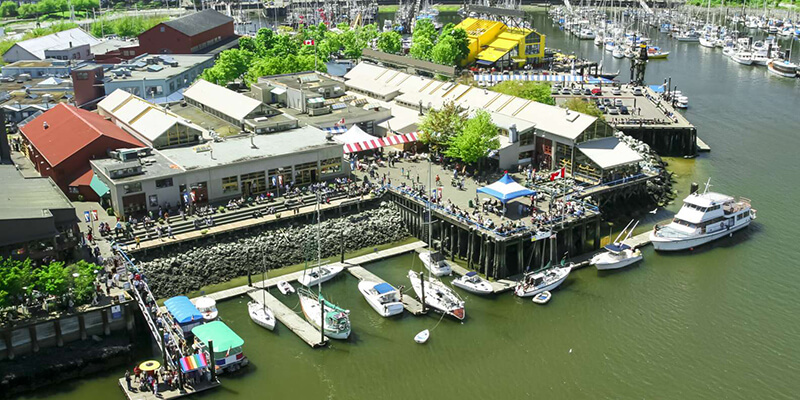 Granville Island: A peninsula and shopping district, located on False Creek from Downtown Vancouver, under the southern end of the Granville Road Bridge. The peninsula was once an area of industrial production, today it is a tourist and entertainment attraction consisting of many shopping buildings. In particular, the Granville public market sells a variety of clean, delicious and crunchy fruits imported directly from the garden, fresh caught seafood and many other typical Vancouver specialties. Besides, visitors can experience many entertainment activities, discover food or visit painting galleries, big theaters,,….
Canada Place Marina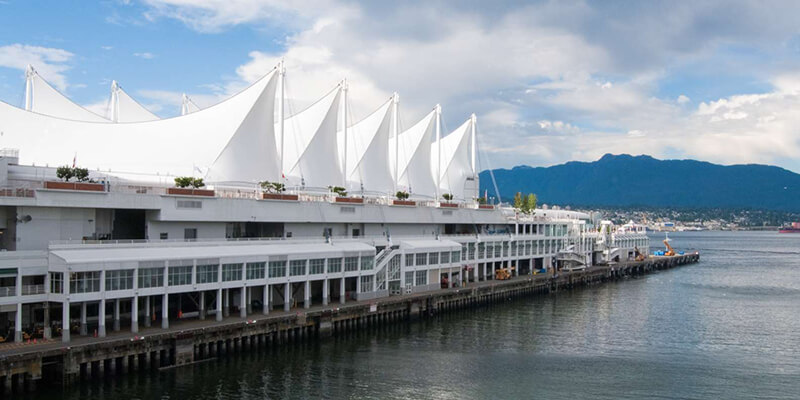 Located in the heart of Vancouver. This marina's remarkable "Five Sails" architectural structure is part cruise ship terminal, part convention center and hotel, and part hub for sightseeing bus tours. At the end of the pier, there are panoramic views and the captivating Canada Flyover – a fun flight simulator and Canadian geography lesson.  This place is the place to organize Canadian festivals, Christmas celebrations, cultural activities of a national nature.
Capilano Suspension Bridge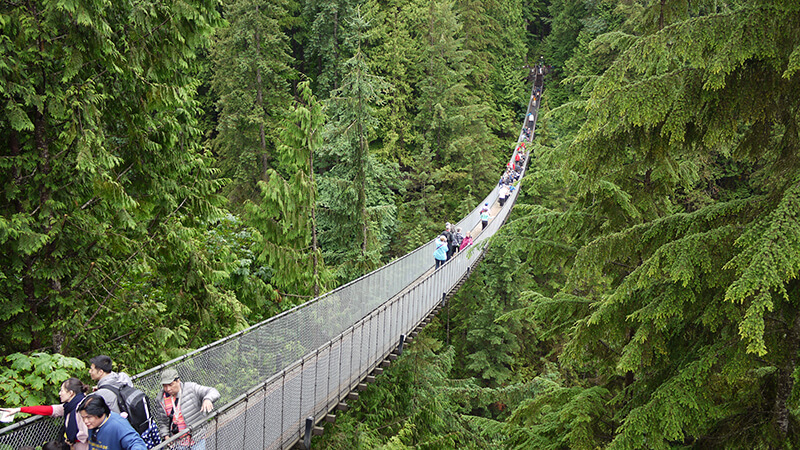 This is a unique suspension bridge spanning the river at a height of 70 meters, stretching from a gorge leading to an active park filled with forest trails and treetop walks past old giants. There is also a collection of totem poles and a transparent hanging platform called the Cliffwalk. Capilano Suspension Bridge attracts visitors especially during Christmas, when thousands of lights are lit up like a shimmering star in the middle of the night. These days, the park is open until 9pm to welcome visitors and give them the feeling of floating on a sparkling bridge in the air.
Historic Gastown (birthplace of Vancouver):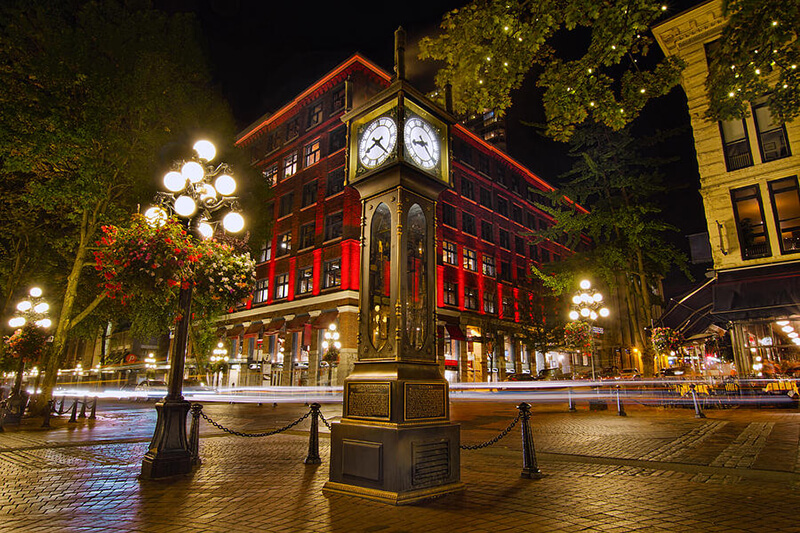 As the oldest part of the city, Gastown is an area of gourmet restaurants, galleries and shops housed in period-style buildings. Victoria is carefully restored. Heritage structures, cobblestone streets and gracefully curved iron lampposts create an old Gastown.
Royal London Wax Museum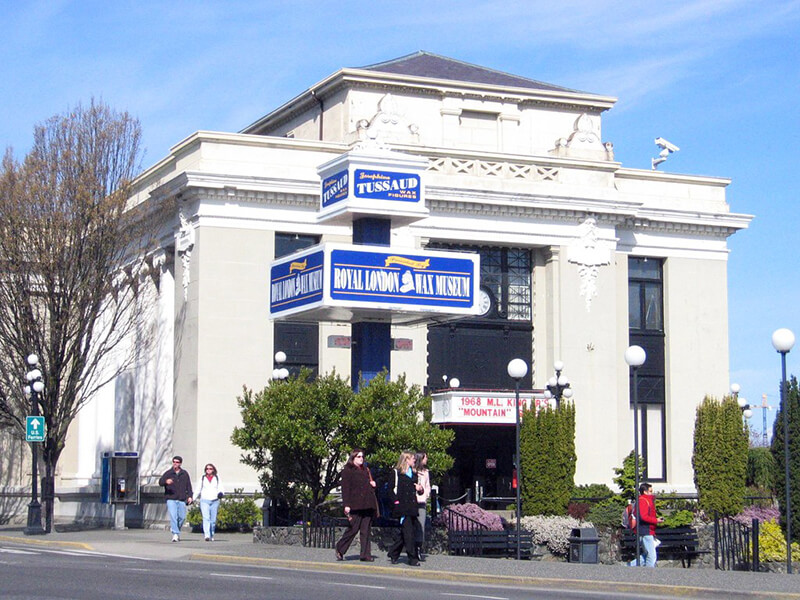 An exhibition of over 300 life-sized wax figures of the British Royal Family and many other famous figures in the world, as well as mythical and ghostly figures.  The wax museum is located in the heart of Victoria, opposite the British Columbia Legislature.
Grouse Mountain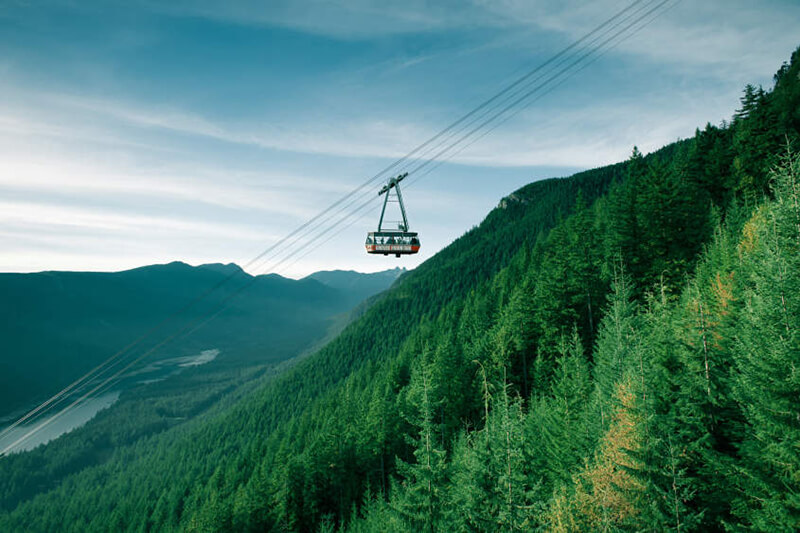 Located north of downtown Vancouver, Grouse Mountain is one of the attractions for visitors and locals alike. It's a great skiing destination in the winter and an outdoor recreation spot in the summer. Grouse Mountain has a lot of entertainment, accommodation and travel areas including restaurants, hotels, sports facilities, and many attractive entertainment programs.
Butchart Flower Garden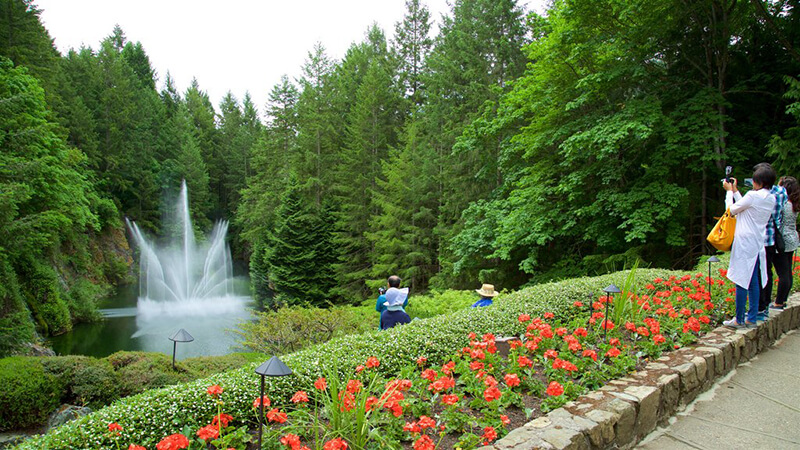 Stretching over an area of more than 20 hectares, the Butchart flower garden is also known by many beautiful words: The fairy scene on earth, the Garden of Eden of North America. With a variety of colors of nature blending harmoniously between the large space, Butchart Garden is like a fairyland that any visitor who comes here will fall in love with.  This place gathers many rare exotic flowers arranged extremely creatively in the style of Japanese and Italian gardens. Each year, this Butchart flower garden welcomes about 1 million visitors to visit.